Think of a scene that reflects many classrooms today: students sitting in their chairs, separated by an abyss from their peers; virtual classes in which it is only the teacher who carries the thread of the entire class through Zoom; pressure, tension and stress to overcome rote tests focused on judging what you know and what you do not. It doesn't sound familiar to you?
We have been facing a historic opportunity, as in moments of inflection such as the pandemic caused by COVID-19, a profound change could have been achieved – or at least initiated – or at least started the path of no return towards meaningful and experiential education. But this was not the case, for a number of different factors that we will analyze later in this Blog.
Today there are methodologies applicable to the current educational system that would allow a positive impact on the motivation of students. In today's post we would like to talk about one of them: gamification.
"That's what games are, in the end. Teachers. Fun is just another word for learning. Games teach you how aspects of reality work, how to understand yourself, how to understand the actions of others, and how to imagine."

Ralph Koster, A Theory of Fun for Game Design
What is Gamification?
Gamification is a creative process that seeks to extract the fun part of a video game – what makes us play and have fun playing – and apply it to a strictly opposite field, such as work or study.
This not only makes studying or working more fun, but also greatly motivates participants. Who would not like to enjoy and have fun while learning? Why should learning be boring and passive?
💡 Attention!
Just because learning is fun doesn't mean it doesn't require effort, sacrifice and passion. How we reach our goal should not depend on just a set path, as we can reach it in different ways, such as through a path of fun and challenges.
Today, however, it is not considered as an alternative to current education, despite having seen how success stories in companies such as Amazon, BBVA, Blinker or Deloitte, among others. It seems scary to still relate to video games, as if adding fun to the world of work or education takes away from the seriousness or importance it requires. But let's not forget something: education is for learning, no matter the form..
Theory of the 8 engines of Gamification
According to Yu Kai Chou, one of the pioneers and considered one of the most important gurus of gamification, after years of research, indicates that there are 8 engines that guide video games. 8 reasons why they are fun and keep us playing relentlessly. In their theory they are shown as an octagon (Octalysis), as it separates the acquired motivation according to whether it is extrinsic and intrinsic, as we can see in the following image:
In each game there can be one or more of these engines, which we explain below:
Epic (meaning)
Maintain motivation because we understand the meaning of what we do or because we are part of its epic, something that is greater than ourselves. The author gives as an example the typical video game story in which the world ends and you are responsible for saving humanity.
Achievement (accomplishment)
In video games there is always a continuous achievement factor, even if it sometimes seems invisible. Merely progressing, acquiring skills or leveling up are rewards that reward constancy. An engine that forces us to continue to feel that we evolve, that we progress, that we are achieving our goals.
Creativity (empowerment)
Not all games are based on following a set path. Sometimes we open a box of LEGO bricks and build what we want. The key, sometimes, is to give a tool that has as many possibilities as a person's imagination. Arouse interest and do something innovative, beyond the limits.
Possession (ownership)
The sense of belonging is somewhat diffuse in the human being. Without going further, NFTs are still a need for virtual and fictitious belonging, and are becoming a market trend that moves large amounts of money. We often feel that, if something is ours, we don't want to lose it, even if it only serves the microworld of a game. If you've ever played Monopoly and had a large sum of money in your hand, you know you don't want to lose it, because it's yours, you've earned it.
Affinity (social influence)
As important is individual motivation as collective motivation. Being part of a team can sometimes make us give more than we ever even have. It is not the same to play football with 10 players as with 11. Union makes strength.
Impatience (avoidance)
There are many times we lose patience and want to get something we don't have, but we know how to get there. We know about its complexity and its difficulty, but we don't care. We want it now. It is an engine that pushes us to continue, because we want it. And it doesn't matter if it's 8 hours we have to devote to it. We do it because we know what we want and we want it now.
Curiosity (unpredictability)
Unlike impatience, we are often hooked by the mere fact of not knowing what will happen, but we want to know. It's something that happens naturally, like watching a series or reading a book. You decide to go on and on because you want to know what happens next, because it worries you. The author points out as an example of this engine to slot machines, as we want to see what is in the next spin. What if I get the jackpot?
Loss (scarcity)
Just like possession, if something is ours, we don't want to lose it. And that is what the latest engine is based on, that we act accordingly not wanting to lose something we have achieved. This happens with Duolingo and his streak of days. This streak marks how many days in a row you have been studying English, but if one day you do not exercise, the streak is lost forever. And it's something you've built and it pushes you to continue because you don't want to lose it.
Of these 8 engines, epic, creativity, affinity and curiosity serve as intrinsic motivation. And extrinsically motivated possession, loss, achievement and impatience.
How to apply Gamification in education. Success stories.
Gamification is oriented in recent years to the workplace, since the fundamental objective of applying it is to increase motivation and change behavior to achieve certain objectives that depend on these metrics to be achieved.
However, it has been successfully implemented in education. A clear example is the one previously named Duolingo. This language academy allows you to learn by playing games, applying gamification to its users to keep them daily learning a new language. It is a general game, which can have fun and teach equally.
Also at BeChallenge methodology we seek to bring the real world in the form of challenges to apply theoretical knowledge in a professional and 100% practical way. Creating fun, motivating challenges, joining teams to achieve the goals and making learning an element of improvement and fun in equal parts.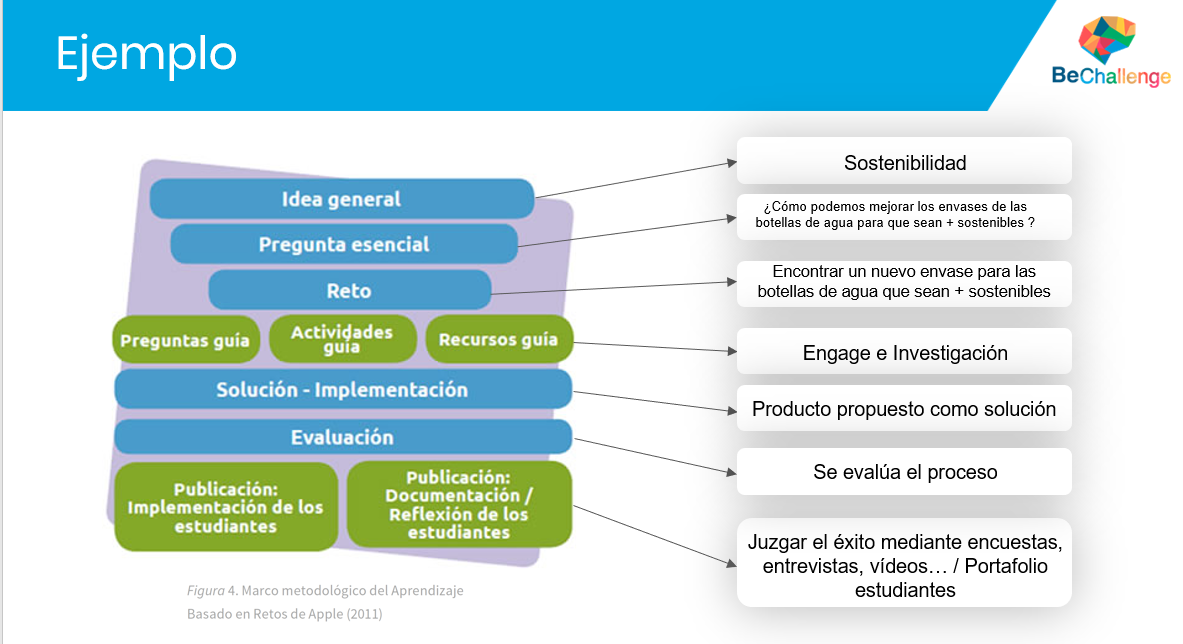 BeChallenge Challenge
Now, following the style that defines BeChallenge, we propose a challenge so that you can apply gamification in your classes or at your school. Are you ready?
The challenge is to apply gamification to your classes to increase the motivation of students and make them enjoy learning. The proposal is to apply gamification throughout a quarter/semester.
Choose one or two maximum engines of the Octalysis to do so.
Plan an activity based solely on Gamification. How would you apply it? How would you link it to the curriculum?
Imagine an evaluation method. How would you approach evaluation? Reminder: evaluating is not the same as qualifying (subscribe to our blog to see future posts related to formative evaluation).
Once you have your classes planned, answer this questionnaire:
Do you think it is feasible to apply Gamification in education?
What challenges do you think teachers will encounter when trying to apply Gamification in their classrooms?
Is the evaluation method you have imagined feasible to eliminate rote exams?
Leave your answers and impressions in the comments. We read them all!
You can find more information at...
TEIXES ARGILÉS, Ferran. Actionable Gamification: beyond points, badges and leaderboardsYu-Kai Chou2016. Octalysis Media: Fremont. CA. Revista de libros. RIO, Nº 18 páginas 138-144, 2017
Redactor Quality Devs. "5 Ejemplos de Gamificación en las empresas" (En línea). Quality Devs. Fecha de publicación: 19 de Marzo del 2019 [Fecha de consulta el 24 de Enero del 2022] Disponible en: https://www.qualitydevs.com/2019/03/19/ejemplos-gamificacion-empresas/
Redactor Up Spain. "Casos de éxito de uso de la Gamificación en RRHH" (En línea). Up Spain. Fecha de publicación: 03 de Enero del 2019 [Fecha de consulta el 24 de Enero del 2022] Disponible en: https://www.up-spain.com/blog/casos-exito-gamificacion-recursos-humanos/